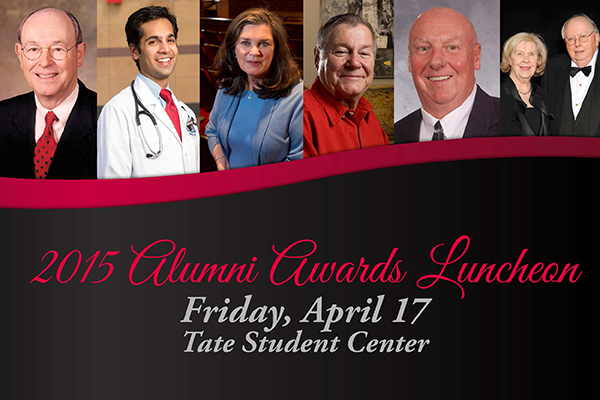 The UGA Alumni Association is proud to present the Young Alumni Award, Faculty Service Award, Friend of UGA Award, Alumni Family of the Year Award, and Alumni Merit Awards each year to recognize thsoe individuals who - through their service, contributions and accomplishments - bring distinction and honor to the University of Georgia, the state, nation and world.
The 2015 Alumni Awards Luncheon took place on Friday, April 17 at noon in the Tate Student Center's Grand Hall.
2015 Alumni Award Honorees
Young Alumni Award
Deep J. Shah (AB '08, BS '08)
Faculty Service Award
Rebecca H. White
Friend of UGA
Willis J. Potts, Jr.
Alumni Merit Award
C.L. Morehead, Jr. (BSA '50)
Alumni Merit Award
James H. Blanchard (BBA '63, LLB '65)
Alumni Family of the Year
The John F. (BBA '58, MBA '60) and Marilyn McMullan Family